Aboriginal 8 Ways Learning
We have manufactured a set of 8 Stamps for use on your students' and teachers' paperwork. The symbols form such an integral part of the 8 Ways teachings therefore these stamps are a great teaching aid, something that the students will easily identify with.     PURCHASE 8 WAYS STAMPS.
Tell a story – Make a Plan – Think and do – Draw it – Take it outside – Try a new way – Watch first, then do – Share it with others.
This Aboriginal pedagogy framework is expressed as eight interconnected pedagogies involving narrative-driven learning, visualised learning processes, hands-on/reflective techniques, use of symbols/metaphors, land-based learning, indirect/synergistic logic, modelled/scaffolded genre mastery, and connectedness to community however every place , every People, have their own unique pedagogies. These 8 simple symbols are merely a starting point for dialogue. Each school engages in a different way, and produces its own unique frameworks for Aboriginal education through dialogue with the community about local ways of doing things.
Stamps
 The Self Inking set has an image area of 14 mm or 25mm.  Your stamp will have either a blue, red, purple or black handle depending on stock availability.
The Self Inking Stamps are available in black ink and are easily re-inked when the image starts to fade.
Re-Inking
It is extremely important that the correct ink is used when re-inking your stamps or stamp pad. Failure to do so could result in permanent damage to your stamps so instruction on how to re-ink or change your pad are included with the stamp kits. It is also advisable to store your stamps out of direct sunlight to reduce the chance of the ink evaporating.
To Purchase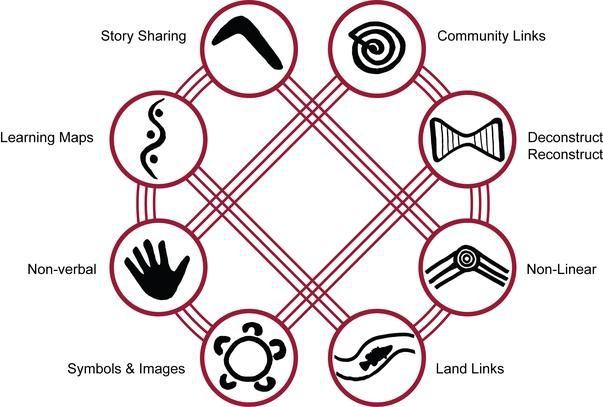 To Purchase click on the size and type you would like to buy and and this will take you straight to the Online Purchasing Cart or Email your order to us. Our Education Supplier No. is 100016908.
P G STAMPS
A.B.N. 22 002 273 949  A.C.N. 002 273 949
22 Rookwood Road    Yagoona  NSW  2199
Ph: 02 9796 2988    E. pg_stamp@bigpond.net.au 
 Order Form can be emailed to us.
TO ORDER ONLINE SELECT ITEM BELOW:
Self Inking Stamps set of 8 – 14mm or 25mm

We acknowledge the Traditional Custodians of Country throughout Australia and recognise the continuing connection to lands, waters and communities. We pay our respect to Aboriginal and Torres Strait Islander cultures and to Elders both past and present.