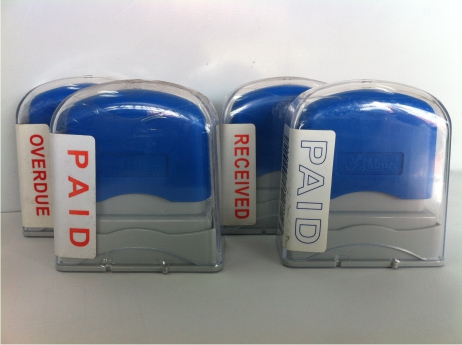 Stock stamps  are an excellent choice for business and personal use. We have a wide range available. Some of the Stamps are available in Red or Blue ink. The majority of  Stamps are supplied with red ink only.
Not Negotiable, Paid, Entered just a few of the range available. The Stamps can be re-inked when the impression starts to fade. To re-ink your  Stamps pull the handle off and add few drops of ink in to the cartridge under the handle.
Only a few drops of ink are required and it is recommended that you re-ink the stamp before you go home for the day so that the ink can settle over night in to the pad. Try to stamp in the morning and if it needs more ink add a few more drops.
Buy Stock Stamps Below
View Cart
Product successfully added to your cart.
For any other enquiries please email us from the link below.
Email: pg_stamp@bigpond.net.au
To view the entire range of stamps we have available click here. For Personalised Teacher Stamps click here.