WA JP Stamps are available to purchase online in addition to purchases by email, phone or fax. Our  JP Stamps have been put in to five categories to help you refine your search.
Justice of the Peace stamp categories are:
Name 
Your name and number are included therefore saving you time as only your signature is required
Affidavit
Affidavit stamps include your name and number  with the exception of a few stamps that don't require that information.
Certifying
The certifying stamps include your name and number with certain stamps including your address therefore saving time when witnessing documents.
Identification
Your name and number are included in these stamps. A blank stamp is also available as some businesses have several JP's and they require a stamp that more than one person can use.
Disability/Language
Disability/Language stamps can be used in particular situations when the deponent has a sight/hearing/language difficulty or other disability.
All our JP Stamps are self inking and are available in Black, Blue or Red ink.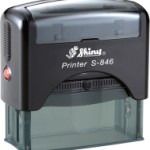 We manufacture onsite and can offer great prices and of course a quicker service.
The pads will eventually fade and need replacing or re-inking. Refill ink pads are available for your  JP Stamps when its time to replace or re-ink.
Customers can purchase the pads or ink online as well as by email, phone or fax. The pads are easily removed and the new ink pad slots effortlessly back in to place. Different wording is available if you don't see what you need in the samples we have on display in our cart, contact us and we will change the wording to suit your preferences.
Hand Stamp versions are available. Call or email us for a quote on the Hand stamp version of the stamp.
Name – WA JP Stamps
Affidavit – WA JP Stamp
Certifying – WA JP Stamps
Identification – WA JP Stamps
Disability/ Language – WA JP Stamps