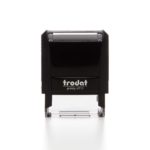 Council Self Inking Rubber Stamps
Council Self Inking Rubber Stamps are quick and easy to use and can be re-inked when needed.
Samples
Samples of stamps we have provided to Councils and Libraries over the years are available to view below.
Click here to see a few samples.
Other stamps for Council use
Office Stamps, Justice of the Peace stamps, Signature and Common Seal Stamps are also a regular item required by most councils. Click on the appropriate pages to see examples of these stamps.
Proof of Artwork
If you are unsure of the best stamp to suit your needs, send us the text for your stamp. Also include what the stamp will be used for and we will sort out the best option for you.
You may have an idea of a stamp you require but are not sure quite how to set it up with all the text you need. Draw your information on paper and either fax or email that artwork to us we can then provide you with a proof of your stamp so you can see exactly what the impression will look like. This is a good idea for those stamps that have sections that need to be written in and the right space is essential. These stamps can be mounted on to the more traditional Rubber Stamp.
Logos
Artwork for Logos can be sent as a pdf or eps file and must be a minimum if 300 dpi. Images must be black and white.
Pricing
Have a look at our products online and contact us to get our special government pricing.
Time Saving
Stamps are an invaluable time saving tool when it comes to putting repetative information on forms and paperwork.  All you need to do is stamp and sign or fill out whatever options you have listed on your stamp.
Re-inking
To ensure you get the maximum number of impressions from your stamp, we recommend that the stamp not be exposed to strong sunlight or heat. This will result in the ink pad drying our more quickly. Re-inking your stamp is easy as can supply you with either a new pad or a bottle of ink to refill your existing pad. You should get between 5000 and 7000 impressions before you need to re-ink. Use of the correct ink is very important as the wrong ink can affect the life of the stamp.
Quality Product and years of experience
You can be assured that we are providing a good product as we stick to the brand we know to be of the highest quality.
Don't Write It…..Rubber Stamp It! This has been our slogan for the past 35 years.
Manufacture Onsite
We manufacture your Council Stamps onsite and we can offer great prices and a fast efficient service.
Delivery
Delivery is provided by Courier, Post or you can opt to pick the stamps up from our shop in Yagoona.
To place an order or obtain a quote for your self inking rubber stamp please email us from the link below .
Email: pg_stamp@bigpond.net.au