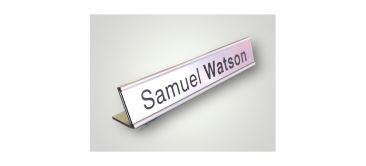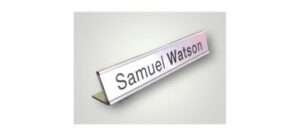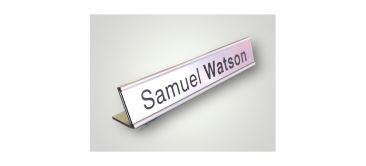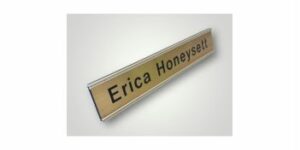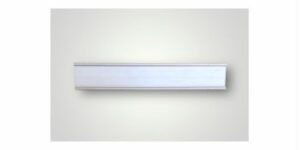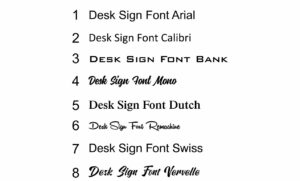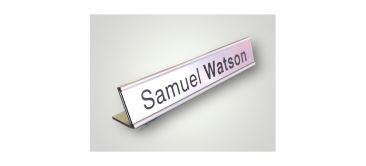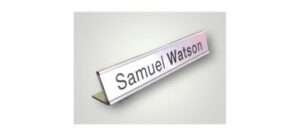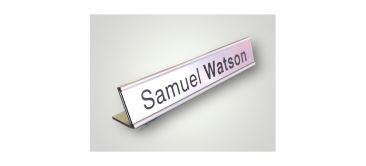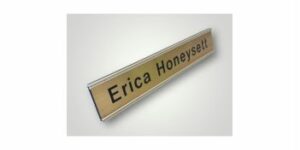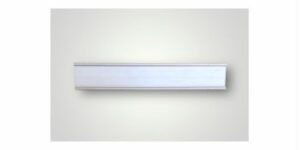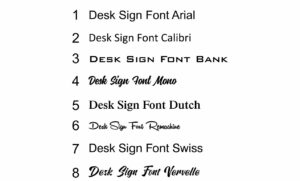 A one-time price of
$25.00
will be added to your order.
Metal Desk Sign with your name engraved on laminated acrylic. 
Application
Use these desk top signs in offices, the office reception area, meeting rooms anywhere that information, a persons name or instructions need to be conveyed to the customer or client.
Colours/Finishes
We have several coloured finishes for the name insert to choose from including a brushed gold and silver.  Font numbers 1, 2 and 7 can be done in a bold font. If you would prefer that,  just put BOLD next to the font number when ordering. You can also have the first name engraved normally and the surname engraved in bold as per our Samuel Watson sample. 
Measurements
Each sign measures as follows :
Aluminium Frame - 20cm in length and is 3.7 cm in height .
Name Plate -  20cm in length and is 3.5 cm in height. 
Materials     
The holder is made from anodised aluminium therefore it is lightweight and easy to move around. The name plate is made from laminated acrylic and engraved by laser. 
Ordering
Simply choose the colour of the name plate, put the chosen font number in the appropriate area and details of the name or information to be engraved on to the plate. If you wish for eg. to have your name with you job title below, you can choose one font for the name and a different font for the job title.  There is plenty of  room in the text areas or in the special instructions to let us know what you require
Cleaning
Your sign can be easily cleaned by sliding the name out, cleaning each piece with a damp cloth, then put back together.